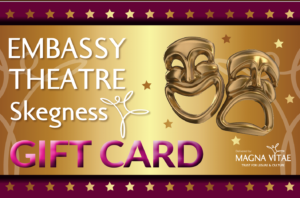 An Embassy Theatre gift voucher makes an ideal gift for any occasion and can be used for any of our screenings, hospitality options or live shows!
You can buy a voucher for any amount you like.
It can be emailed directly to the recipient with a personal message on a date of your choice.
You can purchase and spend your vouchers on line, over the phone or in person from our Box Office.
They are valid for 24 months from date of purchase or the date you choose to send them.
To buy a voucher, simply complete the form below.
Give them a night out to remember… #EmbassyExperience