Jul 23, 2021
Uncategorized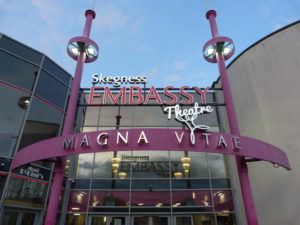 We are looking forward to welcoming you back over the course of the summer. You will however, notice some changes have been made to Tower Esplanade.
We know that it's probably been a while since you came to see a show with us and therefore, to bring you up to speed, here's our handy guide showing you how to find us and also, showing you how you access the two car parks that are the closest to our venue. The car park at the rear of the theatre is still accessed from Tower Esplanade however, the Festival Car Park is now accessed via a different route. Watch our video and we'll show you how to get there. Once you've parked, it's still a short walk to our venue – Tower Esplanade has been pedestrianised for your safety.
For more information, watch our guide or click here.
#EmbassyExperience #welcomeback #parking #Skegness #EastCoast #gettingyouthere
Please note: At the time of writing (July 2021), both of the car parks shown are free of charge after 6:00pm. Space is likely to be limited at peak periods. Please check the latest information when you park using the information boards shown. Please click here to view alternative parking – you will be directed to a page updated by East Lindsey District Council.